Parents' Nursery School:
A cooperative nursery school in Cambridge, MA since 1947
Central to the philosophy of PNS is a strong faith in children—that given a warm and supportive atmosphere, respect, and freedom from unnecessary adult pressures, a child's own natural curiosity is the greatest impetus to his intellectual development. The child's need to give and receive love is the strongest stimulus in his social and emotional growth. Parents' Nursery School strives to reinforce children's self-esteem, concern for others, and eagerness to learn.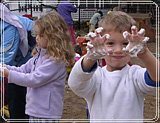 Parents' Nursery School was incorporated in 1947 as a non-profit, integrated, play-based, cooperative  preschool.  The nursery school itself is owned and run by a corporation consisting of the parents, the director, and the teachers. From 1948 to 2011, we were located on Reservoir Street in Cambridge but we are excited to announce that we have moved into our brand new home at 117 Cushing Street in the Strawberry Hill Neighborhood of Cambridge, directly across the street from the Haggerty Elementary School.
Parents' Nursery School is a historic institution but we have a dynamic and exciting future ahead of us. Explore our website to find out more about our community and the wonderful educational experience that is available for your child at Parents' Nursery School. You can also watch our PNS documentary by clicking on the image below.