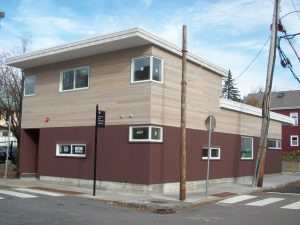 In 2013, we moved into our new home at 117 Cushing Street in the Strawberry Hill Neighborhood of Cambridge (across the street from Haggerty Elementary School). The new building was designed by a parent architect, with input from our teachers and other parent cooperative members on how to build a space that reflects and enhances the school's pedagogy and curriculum.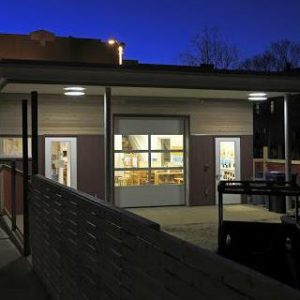 The school has multiple play and building stations, a book room, a large kitchen and eating area, and lots of natural light. Outside, children can play in grass, sand and garden areas, and on our signature wooden boat play structure. The "big door" — a large garage-size door — allows children to move back and forth between inside and outside spaces as their play demands! On hot days, the kids cool down with lots of water play outside; on cold days, they warm up by building snow structures and slides. In Spring, they tap a maple tree to make syrup for the annual Pajama Day Pancake Breakfast! To get a glimpse of all this, please follow our Facebook page, where photos of the classroom in action are posted frequently.
The school is a short trip from Harvard Square, Porter Square, and Huron Village in Cambridge, and is ideally located for commuters from Belmont and Watertown. Many families from Somerville and Arlington also attend the school.
Thank you to everyone that contributed to fundraising for the school.  Our new home would not have been possible without the support and generosity of our many donors.  Donations of any size are greatly appreciated and are tax deductible. Donate on-line or send a check, made out to Parents Nursery School, to 117 Cushing St., Cambridge, MA 02138. Thank You!